The Kepler Field
Field Location On The Sky
The Kepler photometer consisted of 21 CCD modules (each with two 2200 x 1024 pixel CCDs). Each module covered 5 square degrees on the sky. The full 116 square degree field of view on the sky is illustrated below, specifically for the single field that was observed during the prime Kepler mission. For more information on converting pixel coordinates to sky coordinates, consult Section 7.6 in the Kepler Instrument Handbook.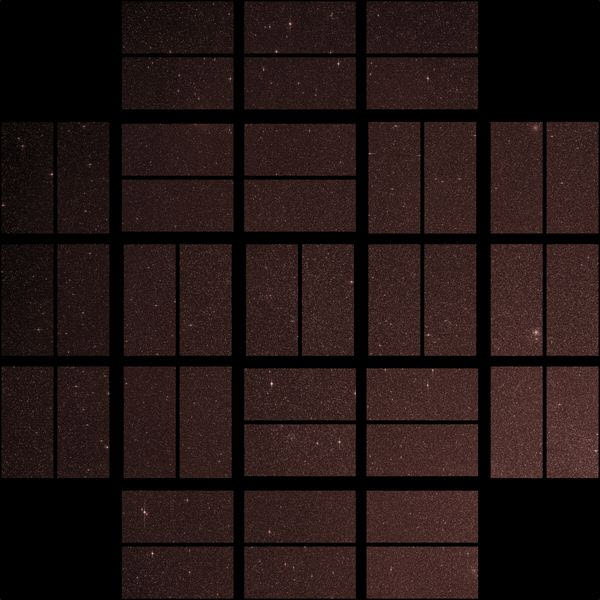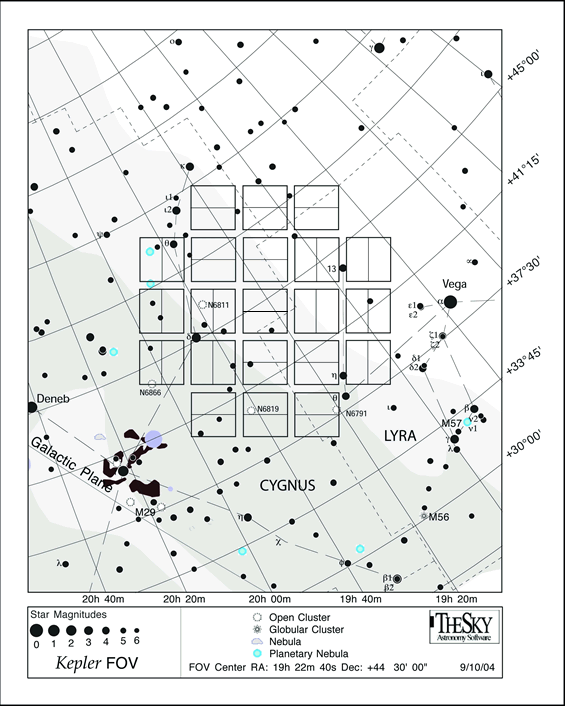 Machine-Readable Table
A table (morc_2_ra_dec_4_seasons.txt) that contains the corners of each Kepler CCD module is available for download in text format. Corners are provided in J2000 celestial coordinates for all four seasonal roll rotations.
Start and Stop Times For Each Quarter
NOTE: For more detailed start and stop times for the long-cadence and short-cadence runs of each Quarter, consult Table 2 and Table 3 in the DR25 release notes. The table below contains the mid-point times of the first and last cadence of each Quarter.
| Quarter | Start Time (MJD) | End Time (MJD) | Start Time (UTC) | End Time (UTC) |
| --- | --- | --- | --- | --- |
| 0 | 54953.03815 | 54962.74411 | 02-May-2009 00:54:56 | 11-May-2009 17:51:31 |
| 1 | 54964.01099 | 54997.48122 | 13-May-2009 00:15:50 | 15-Jun-2009 11:32:58 |
| 2 | 55002.01748 | 55090.96492 | 20-Jun-2009 00:25:10 | 16-Sep-2009 23:09:29 |
| 3 | 55092.72221 | 55181.99660 | 18-Sep-2009 17:19:59 | 16-Dec-2009 23:55:06 |
| 4 | 55184.87774 | 55274.70384 | 19-Dec-2009 21:03:56 | 19-Mar-2010 16:53:32 |
| 5 | 55275.99115 | 55370.66003 | 20-Mar-2010 23:47:16 | 23-Jun-2010 15:50:27 |
| 6 | 55371.94733 | 55461.79386 | 24-Jun-2010 22:44:09 | 22-Sep-2010 19:03:10 |
| 7 | 55462.67251 | 55552.04909 | 23-Sep-2010 16:08:24 | 22-Dec-2010 01:10:42 |
| 8 | 55567.86468 | 55634.84602 | 06-Jan-2011 20:45:09 | 14-Mar-2011 20:18:1 |
| 9 | 55641.01696 | 55738.42395 | 21-Mar-2011 00:24:25 | 26-Jun-2011 10:10:30 |
| 10 | 55739.34343 | 55832.76587 | 27-Jun-2011 08:14:33 | 28-Sep-2011 18:22:51 |
| 11 | 55833.70579 | 55930.82669 | 29-Sep-2011 16:56:20 | 04-Jan-2012 19:50:26 |
| 12 | 55931.90966 | 56014.52273 | 05-Jan-2012 21:49:55 | 28-Mar-2012 12:32:44 |
| 13 | 56015.23787 | 56105.55441 | 29-Mar-2012 05:42:32 | 27-Jun-2012 13:18:21 |
| 14 | 56106.63736 | 56203.81957 | 28-Jun-2012 15:17:48 | 03-Oct-2012 19:40:11 |
| 15 | 56205.98550 | 56303.63768 | 05-Oct-2012 23:39:07 | 11-Jan-2013 15:18:16 |
| 16 | 56304.59804 | 56390.46005 | 12-Jan-2013 14:21:11 | 08-Apr-2013 11:02:28 |
| 17 | 56391.72690 | 56423.50115 | 09-Apr-2013 17:26:45 | 11-May-2013 12:01:40 |