STScI Newsletter
2023 / Volume / Issue
About this Article
MAST Staff - 2023 Jun 06


New:
The Cosmic Evolution Early Release Science Survey (CEERS) covers 100 sq. arcmin of the Extended Groth Strip (EGS) field with JWST NIRCam imaging in parallel to MIRI imaging, NIRSpec and NIRCam wide-field slitless spectroscopy, all in a region supported by a rich set of HST/CANDELS multi-wavelength data. CEERS demonstrates, tests, and validates efficient extragalactic surveys with coordinated, overlapping parallel observations. The observations were obtained in two epochs in Cycle 1. In June, 2022, four pointings of MIRI imaging were obtained with NIRCam imaging in parallel. In December, 2022, six pointings of NIRSpec multi-object spectroscopy with the PRISM (R~100) and medium resolution gratings were obtained with NIRCam imaging in parallel. Four of these pointings were also observed with NIRCam slitless grism spectroscopy (R~1500) with MIRI imaging in parallel. View CEERS collection page >
The JWST Advanced Deep Survey (JADES) is the largest deep survey program that will be executed in the first few of years of operation of JWST. Three GTO Teams (NIRCam, NIRSpec, MIRI-U.S.) have combined time to produce a survey which will ultimately cover over 100 square arc minutes from 0.7 to 5 microns and 10 square arc minutes at 7.7 microns and produce thousands of galaxy spectra. The imaging data presented here is the first release from the survey and covers the "deep" portion with imaging acquired in September - October 2022. The area covered is approximately 25 square arc minutes with exposure times per filter ranging from ~14,000 to ~60,000 seconds. These data provide large galaxy samples for studying galaxy evolution from z~1 to at least z~13, and also to study the full diversity of galaxy characteristics. A catalog with photometry and photometric redshifts is included with this release. View JADES collection page >
Updated: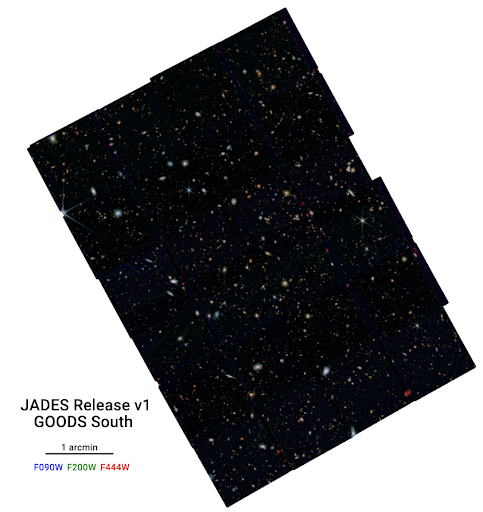 If you are thinking about contributing a High-Level Science Product of your own, please fill out the HLSP Interest Form to get started. HLSPs archived on MAST enjoy permanent hosting space, additional visibility, and, often, increased citation rates. Any further questions on the process can be sent to the Archive Help Desk.