William P. Blair, Johns Hopkins University
Webster Cash, University. of Colorado
Lennox Cowie, University. of Hawaii
Andrea K. Dupree, CfA
Paul D. Feldman, Johns Hopkins University
Scott Friedman, Johns Hopkins University
James Green, University. of Colorado
Richard Green, NOAO/KPNO
Ed Jenkins, Princeton University
Jeff Linsky, JILA
Roger Malina, Univ. of California, Berkeley
Warren H. Moos (PI), Johns Hopkins University
Blair D. Savage, University. of Wisconsin
J. Michael Shull, University. of Colorado
Ossy Siegmund, University. of California, Berkeley
Ted Snow, University. of Colorado
George Sonneborn, NASA/GSFC
Bruce Woodgate, NASA/GSFC
Don York, University. of Chicago


Canadian Project Scientist: John Hutchings, Dominion Astrophysical Observatory
French Project Scientist: Alfred Vidal-Madjar, Institut d'Astrophysique de Paris

Associate Team Members: Allan Willis, University College, London; Cecile Gry, LAS.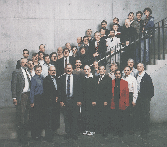 Click the picture to see a larger version.
(Photo taken at Science Team Meeting at JHU, February 1998.)
Click HERE to see an even bigger version! (640 Kb GIF; wider than normal Netscape screen).