An Update to Portable Data Distribution Methods
DVDs will soon be phased out as the primary option for physical delivery of MAST data requests.

To accommodate users with slower network speeds or limited access, MAST has supported data distribution via mailed DVD for a number of years. As those speeds have become faster and CD and DVD drives continue to be phased out of computers, we recognize the need to update our practices to be able to best serve MAST users. Starting soon, DVDs will be replaced by USB drives as the primary MAST data physical media option.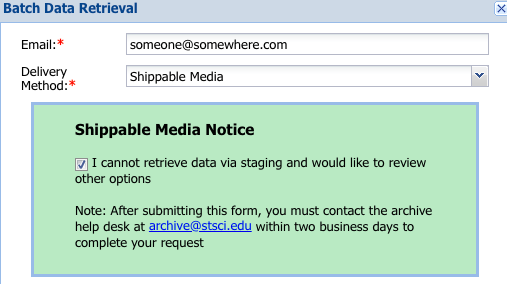 When the new system is launched, users will see a "Shippable Media" option to select for data batch retrieval. As with the current hard media option that offers a DVD, the new system offering a USB will involve a delay due to processing and shipping and will require users to contact the Archive Help Desk to discuss options available that will work for them. We highly recommend that those who are able to retrieve data via staging continue to use this method, as it will greatly expedite the retrieval of data. Users that are unable to use staging and require hard media are welcome to take advantage of this new option, and will see instructions on MAST after selecting the portable media option on how to proceed with their request. Any questions or concerns can be sent to the Archive Help Desk.