NGC 2440
Following the failure of the "backup" side 2 electronics on the Advanced Camera for Surveys (ACS) on 27 January 2007, the Hubble Heritage Team was asked to conduct some new high-quality multiwavelength WFPC2 observations (proposal 11090). Although the WFPC2 has been in continuous service since being installed during Hubble Servicing Mission 1 in 1993, it has only had limited use since the installation of ACS during HST Servicing Mission 3B in 2002. The purpose of this was to quickly illustrate the current WFPC2 data quality, and produce a Heritage-quality color composite image. A secondary goal was to demonstrate the best practices for WFPC2 pointing and drizzling, and provide a concrete A-to-Z example to help guide ACS users currently converting their science programs to WFPC2. Users may find these pages useful:
Quick Start Guide to WFPC2 Imaging for ACS Proposers http://www.stsci.edu/hst/wfpc2/wfpc2_acs.html
WFPC2 dither and mosaic Pointing Patterns http://www.stsci.edu/hst/wfpc2/analysis/wfpc2_patterns.html

The Heritage Team demonstrates the improved resolution that is possible when WFPC2 observations are made with optimal sub-pixal dithering at http://heritage.stsci.edu/2007/09/supplemental.html.

Filenames follow the naming convention h_n2440_fffff_xxxx_drz_ttt.fits

fffff - filter
xxxx - orientation of the image and the contents.

s06y -- y-up and contains all four chips
s06n -- north-up and has data from chip 3 where the target was centered.

ttt is the type: science (sci) or weight.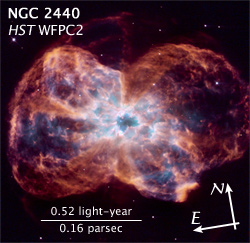 Orientation/Scale
Click to see larger image with filter information.