The New Horizons spacecraft was launched on January 19, 2006, and on February 28, 2007, encountered the planet Jupiter. The spacecraft conducted observations and got a gravity boost en route to Pluto, which it will encounter in July 2015. In support of this flyby, two Hubble Space Telescope (HST) General Observer (GO) proposals were approved and prepared: 10862 (PI John Clarke) and 10871 (PI John Spencer). Following the failure of the ACS side 2 (backup) electronics on January 27, 2007, STScI Director Matt Mountain granted 20 orbits of his discretionary time to the Hubble Heritage Team to conduct additional Jupiter observations with WFPC2 (program 11096). Working closely with the New Horizons science team to design complementary observations, the Heritage Team conducted a sequence of multiwavelength observations over a full Jupiter "day" (~10 hours), to globally map the Jovian cloud structure at the time of the flyby, and then repeat this sequence again 3 weeks later. Other observations include a transit of Io (with an active Tvashtar volcanic plume), and some sequential observations of the Great Red Spot and Little Red Spot. Some observations were lost as a result of guide star failures, but the main goals of the program were accomplished.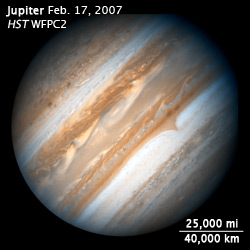 Each filename indicates that it is an HLSP (h_jupiter), the filter wavelength in nanometers (F255W, F343N, F410M, F673N, F953N), and the observation date (YYMMDD) followed by a letter code which indicates membership in an observation sequence. The filter and observation date/time are also visible when these images are displayed (in the object title). The observations sequence letter codes are as follows:
| code | observation sequence |
| --- | --- |
| a-g | Full Jupiter rotation (one 10-hour Jupiter "day") |
| x-z | Consecutive Great Red Spot observations (about 10 hours apart) |
| j | Little Red Spot (a.k.a Red Spot Jr.) observations |
| i | Io transit |
The data reduction steps are found in the associated readme file. The data listed below are grouped by filter for each observation date. Click on the link to download a fits file; click on thumbnail image to see a larger version of the preview. Click on one of the dates below to see the data and previews for that date. You may also download the data via anonymous ftp from archive.stsci.edu (cd /pub/hlsp/heritage/jupiter).