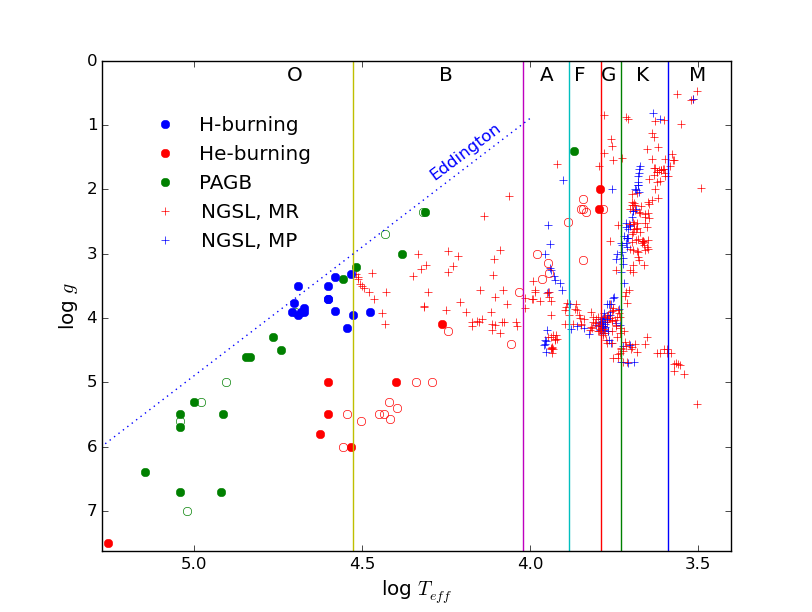 NGSL stars and our sample in a log Teff, log g diagram. NGSL stars (Koleva & Vazdekis 2012,

A&A

, 538, 143) are separated by abundance, [Fe/H] > -1 (red plus) or [Fe/H] < -1 (blue plus). Hot star library candidate stars are marked with circles. The circles are filled for stars that were observed and included in this HLSP. All O star candidates (blue) were observed, but not all PAGB stars (green) or He-burning stars (red). To guide the eye, an approximate Eddington stability line is drawn, and approximate spectral type boundaries. From Khan & Worthey et al. (2018).
We present 41 low resolution spectra of 40 stars from 0.2 micrometers (ultraviolet) to 1.0 micrometers (near infrared) with excellent fluxing. The stars include normal O-type stars, helium-burning stars, and post-asymptotic giant branch (PAGB) stars. Spectra were obtained with the Space Telescope Imaging Spectrograph (STIS) on the Hubble Space Telescope (HST) using three low resolution gratings, G230LB, G430L, and G750L. Cosmic ray hits and fringing in the red were corrected. A correction for scattered light was applied, significant only for our coolest stars. Cross-correlation was used to bring the spectra to a common, final, zero velocity wavelength scale. Finally, synthetic stellar spectra were used to estimate line of sight dust extinction to each star, and a five-parameter dust extinction model was fit, or a one-parameter fit in the case of low extinction. These spectra dovetail with the similar
Next Generation Stellar Library
(NGSL) spectra, extending the NGSL's coverage of stellar parameters, and extending to helium burning stars and stars that do not fuse. You can refer to the full collection of HOTSTARLIB data products in papers or webpages using the DOI
http://dx.doi.org/10.17909/T9BH65
.
Spectral FITS Files
Each spectrum is stored as a binary FITS file. The primary header contains metadata about the observations, as well as a rebinned, dust-corrected spectrum for the target. The first extension contains a ragged-lambda, dust-corrected spectrum of the target. The final extension contains a list of the original HST observation IDs used to construct the spectrum.
Primary HDU (HDU 0): Rebinned, Dust-Corrected Spectrum
Data stored in table (3,981 columns, 5 rows). Note wavelengths are in WCS. The rows are:
ARRAY #1
Dust-Corrected Flux
ARRAY #2
Dust-Corrected Flux Uncertainty
ARRAY #3
Raw Flux
ARRAY #4
Raw Flux Uncertainty
ARRAY #5
Extinction Curve
First Extension (HDU 1): Ragged-lambda, Dust-Corrected Spectrum
Data stored in table (6 columns, 2,908 to 2,910 rows). The columns are:
WAVELENGTH
Wavelength (Angstroms)
FLUX_DUST_CORRECTED
Dust-Corrected Flux
UNCERTAINTY_DUST_CORRECTED
Dust-Corrected Flux Uncertainty
FLUX_UNCORRECTED
Raw Flux (before correction)
UNCERTAINTY_UNCORRECTED
Raw Flux Uncertainty (before correction)
EXTINCTION_CURVE
Model Extinction Curve
Second Extension (HDU 2): HST ObsID List
Data stored in table (1 column, 12 rows). The rows are:
DATASET_LIST
List of HST observation IDs used to make spectrum.
The spectra can be downloaded using the table below.
| Target | RA | Dec | Lit. T_eff | Lit. log(g) | Download |
| --- | --- | --- | --- | --- | --- |
| BD+60D513 | 02:34:02.5285 | +61:23:10.848 | 40000. | 3.70 | SPECTRUM |
| DR-AND | 01:05:10.704 | +34:13:06.32 | 6200. | 2.30 | SPECTRUM |
| EGB-5 | 08:11:12.768 | +10:57:17.10 | 42000. | 5.80 | SPECTRUM |
| GJ-894.3 | 23:19:58.39814 | -05:09:56.1604 | 40000. | 5.00 | SPECTRUM |
| GLMP-334 | 12:38:53.10 | -57:56:31.9 | 7400. | 1.40 | SPECTRUM |
| HD107969 | 12:24:30.76 | -18:47:05.4 | 82000. | 5.50 | SPECTRUM |
| HD15570 | 02:32:49.42013 | +61:22:42.0956 | 49000. | 3.51 | SPECTRUM |
| HD164794 | 18:03:52.44466 | -24:21:38.6269 | 47000. | 3.90 | SPECTRUM |
| HD168075 | 18:18:36.061 | -13:47:36.51 | 49000. | 3.95 | SPECTRUM |
| HD192639 | 20:14:30.42806 | +37:21:13.8107 | 38000. | 3.37 | SPECTRUM |
| HD205805 | 21:39:10.61355 | -46:05:51.5321 | 25000. | 5.00 | SPECTRUM |
| HD207198 | 21:44:53.27923 | +62:27:38.0479 | 34000. | 3.31 | SPECTRUM |
| HD210839 | 22:11:30.57571 | +59:24:52.1546 | 40000. | 3.50 | SPECTRUM |
| HD217086 | 22:56:47.19030 | +62:43:37.6487 | 40000. | 3.71 | SPECTRUM |
| HD228199 | 20:11:27.2625 | +36:29:56.845 | 30000. | 3.91 | SPECTRUM |
| HD26847 | 04:14:15.782 | -12:44:21.68 | 70000. | 4.60 | SPECTRUM |
| HD269696 | 05:31:40.3489 | -69:53:02.183 | 40000. | 5.50 | SPECTRUM |
| HD46150 | 06:31:55.520 | +04:56:34.28 | 46900. | 3.85 | SPECTRUM |
| HD46966 | 06:36:25.88773 | +06:04:59.4769 | 38100. | 3.89 | SPECTRUM |
| HD93250 | 10:44:45.02626 | -59:33:54.6841 | 51000. | 3.90 | SPECTRUM |
| HD93521 | 10:48:23.51137 | +37:34:13.0922 | 33500. | 3.95 | SPECTRUM |
| HDE303308 | 10:45:05.848 | -59:40:06.36 | 48000. | 3.91 | SPECTRUM |
| HEN-2-182 | 16:54:35.168 | -64:14:28.44 | 36000. | 3.40 | SPECTRUM |
| IC2448 | 09:07:06.262 | -69:56:30.57 | 55000. | 4.50 | SPECTRUM |
| LSIII+52D24 | 22:04:12.302 | +53:04:01.37 | 24000. | 3.00 | SPECTRUM |
| LSIV-12D111 | 20:01:49.8373 | -12:41:17.600 | 20500. | 2.35 | SPECTRUM |
| LSS-1362 | 09:52:44.524 | -46:16:47.47 | 100000. | 5.30 | SPECTRUM |
| LSV+46D21 | 04:43:21.270 | +46:42:05.84 | 83000. | 6.70 | SPECTRUM |
| NGC1535 | 04:14:15.782 | -12:44:21.68 | 58000. | 4.30 | SPECTRUM |
| NGC2392 | 07:29:10.76590 | +20:54:42.4830 | 47000. | 3.60 | SPECTRUM |
| NGC3242 | 10:24:46.107 | -18:38:32.64 | 68000. | 4.60 | SPECTRUM |
| NGC6611-367 | 18:18:52.67456 | -13:49:42.6158 | 35000. | 4.15 | SPECTRUM |
| NGC6853 | 19:59:36.379 | +22:43:15.75 | 110000. | 6.70 | SPECTRUM |
| NGC7094 | 21:36:52.97 | +12:47:19.0 | 110000. | 5.70 | SPECTRUM |
| PHL-382 | 22:43:06.0147 | -14:50:37.393 | 18200. | 4.10 | SPECTRUM |
| PN-A66-78 | 21:35:29.38 | +31:41:45.3 | 110000. | 5.50 | SPECTRUM |
| PN-K-1-16 | 18:21:52.111 | +64:21:53.22 | 140000. | 6.40 | SPECTRUM |
| PN-TC-1 | 17:45:35.3020 | -46:05:23.682 | 33000. | 3.20 | SPECTRUM |
| RX-CET | 00:33:38.28188 | -15:29:14.7888 | 6186. | 2.00 | SPECTRUM |
| RX-J0122.9-752117 | 01:22:53.37 | -75:21:13.8 | 180000. | 7.50 | SPECTRUM |
| SB-707 | 01:43:48.54613 | -24:05:10.2360 | 34000. | 6.00 | SPECTRUM |