Williams et al. 2018,

ApJ

, 860, 39
---
---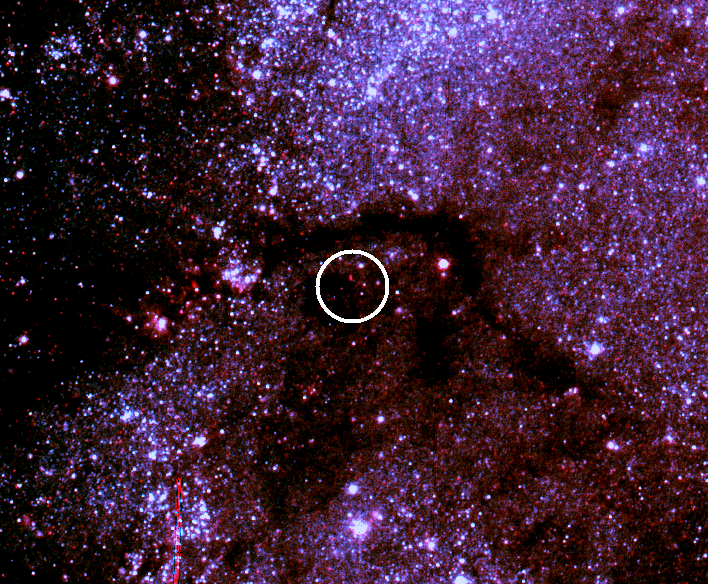 Example CCSNE mosaic, the white circle represents a 50 pc extraction region centered on the historic supernova location, and thus the region where photometry was used to constrain the progenitor mass.
CCSNE (
HST Proposal #14786
) is a high-precision, photometric survey of areas surrounding historic, nearby core-collapse supernovae. The catalogs are used to infer the initial masses of the progenitors by fitting stellar evolution models to the color-magnitude distributions of the resolved stellar populations near the supernovae. Each area is observed in two filters, either F606W+F814W, F435W+F606W, or F438W+F606W. The drizzled mosaics and source catalogs are provided for all the observed fields. You can refer to the full collection of CCSNE data products using the DOI
https://doi.org/10.17909/T9X97R
.
Each of the 18 regions have four files with the following naming convention:
hlsp_ccsne_hst_<ins>_<target>_<filter>_v1_<exten>.fits
where:
<ins> = instrument used, either "acs-wfc" or "wfc3-uvis"
<target> = name of the target, which includes the proposal name and target information
<filter> = the filter or filter combination used, e.g. "f606w-f814w" or "f438w"
<exten> = the extension, which is one of the following

"phot" - initial (full) photometry output catalog
"st" - culled photometry output catalog, which only contains sources detected at > 4 sigma and have sharpness values indicating that they are likely a true point source
"drc" - final drizzled images that were produced as an intermediate product to check image alignment and masking before photometry
Using tools like wget and curl, you can download the CCSNE data products (following the naming convention above) from the url:
https://archive.stsci.edu/hlsps/ccsne/
For example, the following command will download the high confidence star catalog for the NGC 6946-2 primary field:
wget -v -nH -np https://archive.stsci.edu/hlsps/ccsne/hlsp_ccsne_hst_acs-wfc_14786-ngc6946-2_f435w-f606w_v1_st.fits
You can also browse the summary table below to download CCSNE data products and view preview images.