Hubble Space Telescope multi-color ACS mosaic of M82
In March 2006, the Hubble Heritage Team obtained a large 4-color mosaic image of the M82 with the Advanced Camera for Surveys (ACS) onboard the Hubble Space Telescope (HST). See 10776 PI: Matt Mountain) for details.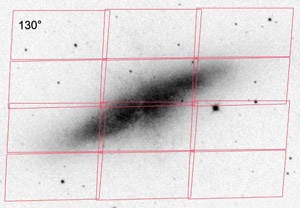 To the right is the six-pointing ACS mosaic overlay on the DSS image of M82 from the Digitized Sky Survey. The M82 data were obtained in four filters: B, V, I, and H-alpha.
The resulting color composite image was released to the community on April 24, 2006 to celebrate Hubble's 16th anniversary. Since the M82 mosaics produced by the Hubble Heritage Team represent a significant investment of expert processing beyond the standard archival products, these drizzle-combined FITS have now been released as a High-Level Science Product via the Multimission Archive at Space Telescope (MAST).
We provide a list of downloadable FITS files and some associated preview GIF images.

A very complete text-only README file has been provided which describes key aspects of the observing program, the standard pipeline processing, and the post-pipeline combination of these images into complete mosaics. A paper (to be published Jan 2007 in PASP) describes the processing in detail. The paper has been posted to astro_ph http://arxiv.org/abs/astro-ph/0612547
Data may be downloaded via your web browser from the list of FITS files mentioned above or via anonymous ftp. FTP to archive.stsci.edu logging on as anonymous then cd /pub/hlsp/m82. The FITS files are contained in the directory "version1". The preview gif files in the directory "previews".