Mission Status Report #114 Star Date: November 3, 2008
FUSE End-of-Mission Conference a Success!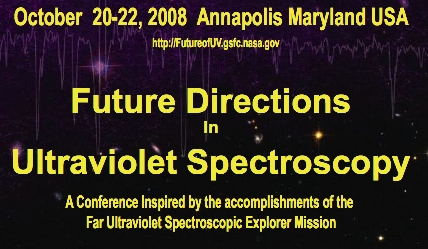 (Click image above to see larger version.)
---
As discussed in an earlier status report, the FUSE satellite has terminated operations and we are well into the close-out phase of the project. The satellite was decommissioned on October 18, 2007. FUSE will be up there orbiting quietly for a long time (30 years or more by some estimates) until ultimately it will re-enter the atmosphere and burn up.
FUSE close-out activities are proceeding on schedule and will wrap up by the end of 2008. The reprocessing of the entire FUSE science data set is now complete, and all final data have been delivered to the MAST archive at STScI. Indeed, we even expect the JHU web site, which has been hosted by JHU since prior to the FUSE launch, to be replaced by a new "archival" web site at MAST. This will occur in early January 2009. Much of the relevant technical, support, educational and historical information about FUSE will continue to be hosted on the new MAST/FUSE page. We thank our friends at MAST for providing this long term web presence for the project.
As noted at the top of this page, thanks to the generous support of NASA HQ, a FUSE "end-of-mission" science conference was held in Annapolis, Maryland from October 20-22, 2008. The weather was glorious, and the Westin Annapolis provided a terrific venue for this exciting conference. Over 100 people attended, with 30 invited and contributed talks and nearly 50 poster presentations. The presentations not only highlighted the tremendous breadth of scientific topics addressed by FUSE over its eight years of operations, but also turned an eye toward the future, to help define what a "next generation" facility will need to do to address unresolved scientific questions. It was a fitting capstone on the accomplishments of this marvelous mission, and our thanks go to NASA for their encouragement and support of the conference. Photos from the conference are available HERE. For more information, the conference web site is still on-line.
I'm sad to say it, but this will be my final Mission Status Report for FUSE. It has been a wild and wonderful ride, but all good missions must come to an end. I know I speak for the entire FUSE community when I say a special word of THANKS to the incredible team that developed and operated this mission over the years. It has been a tremendous privilege for me to lead this team over the past eight years, and my hat is off to you all!
Reported by: Bill Blair, FUSE Chief of Observatory Operations

Last Update: November 3, 2008