FUSE

Satellite Status
Report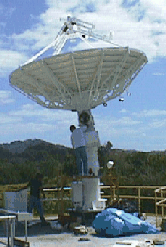 Report #3
Star Date: Sept. 30, 1998
UPRM UPDATE
Hurricane Georges swept through Puerto Rico last week, and our FUSE ground station at the University of Puerto Rico in Mayaguez suffered a direct hit. Eric Guzman/UPRM, the engineer who supports our antenna operations, says that the FUSE antenna suffered considerable damage. The antenna was stowed prior to the hurricane's arrival, but the wind apparently sheared the pins holding the dish to the pedestal. There was also some water in the equipment room inside the building, but that does not appear too bad. A team is preparing visit the site as soon as possible to further assess the damage and recommend repair options.
The good news is that our FUSE colleagues in Mayaguez are safe. Phone and electrical service in the area may take weeks to restore according to Eric.
The Universal Space Network's site in Hawaii has "tracked" the COBE spacecraft and is anxious to test with SAMPEX and the FUSE SCC late this month or early in October. MOT manager Chris Silva has reported good results with data flows with USN. Wallop's LEO-T (#2) should be declared operational soon. Hence, there will be more than enough communications capacity available (64 minutes per day required) to support FUSE launch and routine operations.
Photo: FUSE ground station antennae in better days (Mar. 1998).
(Click on photo to see enlarged version.)
SATELLITE STATUS
The FUSE satellite was moved last week from the acoustic facility to the building 29 clean room (the "SSDIF") at GSFC following successful completion of the vibration and acoustic environmental tests. Inspection revealed some unexpected particulate contamination, especially in the region of the telescope mirror bench and, to a lesser extent, within the spectrograph cavity. These particulates are currently being analyzed to determine their source. Possible sources include small pieces of thermal blanket material shaken loose during vibration or acoustic tests, particles liberating during trimming of portions of the blankets which had already been installed, and the brief introduction of building 10 room air during a baffle door motion test. In any case, the interior and exterior of the satellite will be vacuumed and cleaned to remove as much particulate as possible.
Preparations for the first Mission Simulation Test continue, and it is scheduled for the first week in October. This will be conducted from the SCC at JHU. Following this FUSE will be moved into the large vacuum tank in building 10. The first Comprehensive Performance Test (CPT) will be done prior to pump down, which will be in mid-October.
Compiled from reports by: Bill Oegerle, Tom Ajluni, and J.B. Joyce. Scott Friedman reported the satellite status.