FUSE

Satellite Status
Report

Report #13, Star Date: May 11, 1999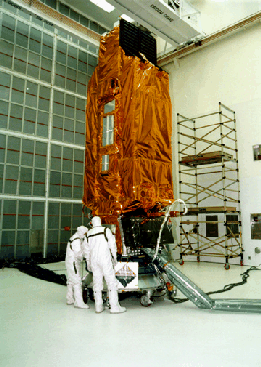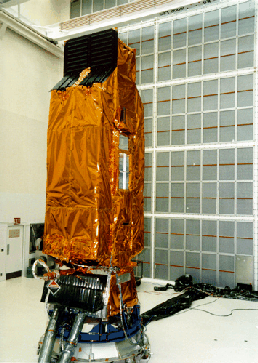 Photos: FUSE in Hangar AE at Cape Canaveral Air Station, Florida. (Click on either photo to see enlarged version.)
FUSE AT CCAS, READY TO GO...
...if we only knew when!
The FUSE launch date has been particularly unsteady due to delays and uncertainties in the launch schedule at the Cape for other missions before us in the queue. While we apologize for this, and we acknowledge the frustration in the community, there is really nothing we can do about it! We are a pawn when it comes to specifying the exact launch date. As of today, we are the next mission scheduled from pad 17A at CCAS, and dates in early to mid-June are being discussed,
The satellite itself is at CCAS in hangar AE, and is in great shape. It has been mounted on its Payload Attach Fitting, which is the interface between the satellite and the rocket. (The next time they come apart will be in orbit!) The flight batteries have been installed in the spacecraft. Up until this point, GSE batteries have been used for most testing. The solar arrays are scheduled to be installed in the next couple of weeks. They are they final major hardware item to be installed onto the satellite. FUSE continues to be used for testing and can be commanded from the Satellite Control Center at JHU. However, testing will end soon when the launch date is solidified and the pad processing begins.
Numerous pre-launch tests and reviews have been passed since the last report. Mission SIM #6 and high fidelity launch simulations have been completed, and the Operations Readiness Review has been held. The operations team at JHU is now working steadily on final development issues and testing, and is focussing effort on planning the (roughly) 45-day In-orbit Checkout (IOC) period following launch.
Reported by: Bill Blair, Chief of Mission Planning, and Scott Friedman, JHU Project Scientist

---
Live FUSE Processing Video from hangar AE at CCAS!
KSC PAO Pix of FUSE in Hangar AE at CCAS.

or