| | |
| --- | --- |
| FUSE | Mission Status Report |

Mission Status Report #76 Star Date: August 31, 2004
Victoria Meeting Highlights Breadth of FUSE Science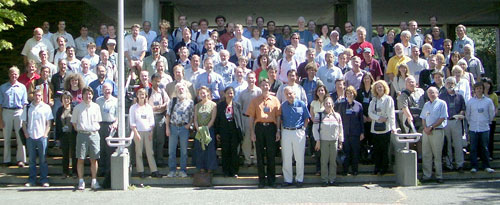 Caption: The Conference photo from the international conference "Astrophysics in the Far Ultraviolet: Five Years of Discovery with FUSE," held at the University of Victoria, 2-6 August 2004. Approximately 140 scientists attended. (Photo courtesy University of Victoria.)
(Click image above to see larger version.)
---
Operations on the FUSE satellite continue to go very smoothly since my last report. The hybrid two reaction wheel/magnetic torquer bar control system is performing well, and we continue to take advantage of the better sky coverage obtained with improved ground planning software earlier this year. At this writing, we are 5 months into Cycle 5 of FUSE observing, and making good progress on the requested observations.
From August 2-6, 2004, I had the great pleasure of attending a major international conference [ link http://www.uvcs.uvic.ca/conf/FUSE/ no longer active] based largely on results from the FUSE mission. "Astrophysics in the Far Ultraviolet: Five Years of Discovery with FUSE" was held in Victoria, British Columibia, and co-sponsored by NASA, the Canadian Space Agency, the University of Victoria, and the Herzberg Institute of Astrophysics, with additional support from the Dominion Astrophysical Observatory and corporate sponsors Orbital Sciences Corporation and Swales Aerospace. The schedule for this four day conference was packed with an incredible array of scientific results, across the whole broad SPECTRUM (pun intended!) of modern astrophysics. The format of the conference was well received. An initial invited review talk started off each new science topic, providing context for the contributed papers that followed. Posters for a given science area were highlighted at the breaks in the program that were closest to the relevant invited talk. Social events included an opening reception at the UVic Faculty Club, a boat cruise around Victoria, a buffet dinner held at DAO, and the conference dinner at Dunsmuir Lodge. Many folks also enjoyed the Victoria waterfront and world famous Butchart Gardens. Many good comments were received from those attending. Special thanks go to John Hutchings (HIA) and the Local Organizing Committee for a job well done! An on-line photo retrospective from the conference is available HERE. (Additional contributed photos have been requested in the last FUSE Newsletter.)
It was most satisfying and rewarding to even get a sampling of the kinds of things the scientific community is doing with data from FUSE, and I have tried to communicate this to the operations team here at JHU. We work awfully hard to make this satellite work (and keep it working!) for the astronomical community, and it is good to step back once in awhile and realize from a different perspective that it is worth it. So let's keep the ball rolling! NASA has released the Call for a new round of proposals, Cycle 6. Details are posted at the FUSE Guest Investigator Support Site [link no longer active]. The deadline for receipt of proposals is fast approaching: September 17, 2004. Good luck to all.
Reported by: Bill Blair, FUSE Chief of Observatory Operations