| | |
| --- | --- |
| FUSE | Mission Status Report |

Mission Status Report #72 Star Date: Jan. 12, 2004
Happy New Year!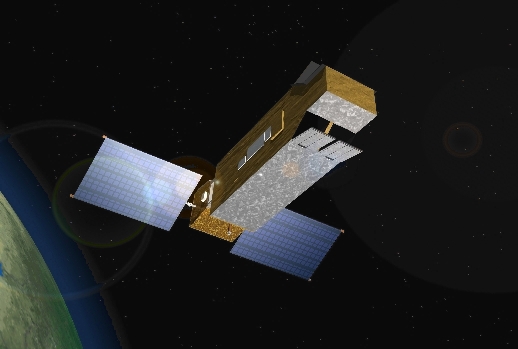 Caption: Graphic showing how FUSE would look on-orbit. The telescopes are looking toward the upper right in this picture, and only two of the four telescope doors are visible from this angle. The blue rectangles represent the solar panels, which connect to the spacecraft at the bottom. (Figure courtesy NASA and the FUSE project.)
(Click image above to see larger version.)
---
I am happy to report that operations with FUSE continue to go very well. The last two months have been the "quietest" in recent memory, with very few problems of any importance to operations. (I am not a superstitious person, or I would not be saying that out loud! Knock on wood.)
I have just returned from the annual winter meeting of the American Astronomical Society in Atlanta, and it was indeed gratifying to see so much FUSE-related science presented there. It is hard to get an official count of FUSE-related papers, since FUSE data are being used as part of numerous multiwavelength studies and "FUSE" does not always appear in the title or abstract. However, at least 30 presentations used FUSE data prominently. Also, while the count may not be complete, as of now we know of 66 refereed FUSE publications that appeared with a 2003 date, with many more in conference proceedings and MANY more papers on the way in 2004.
FUSE Cycle 5 proposals have been announced since the last update, and all successful Cycle 5 Guest Investigators should have been informed by now. This was our strongest proposal cycle to date, with a larger oversubscription than we have ever had! Needless to say, we are glad that the community wants to use the facility that we (the Operations Team) have worked so hard to keep operating through our various travails. We look forward to producing many more excellent scientific results in 2004.
From the FUSE team, best wishes for a productive and prosperous new year!
Reported by: Bill Blair, Chief of Observatory Operations