| | |
| --- | --- |
| FUSE | Mission Status Report |

Mission Status Report #65 Star Date: Mar. 17, 2003
Prime Mission Winding Down, but Extended Mission Cranking Up!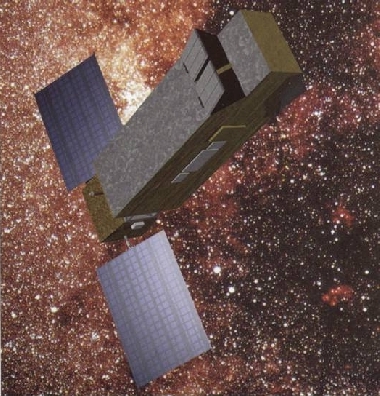 Caption: Graphic showing how FUSE would look on-orbit. The telescopes are looking toward the upper right in this picture, and only two of the four telescope doors are visible from this angle. The blue rectangles represent the solar panels, which connect to the spacecraft at the bottom. As the background shows, there are a LOT of stars out there for FUSE to look at! (Figure courtesy JHU FUSE project.)
(Click image above to see larger version.)
---
I am happy to report that operations with FUSE continue to go very smoothly. In large part, the fact that it has been two months since my last report reflects the fact that there hasn't been much to say. (Believe me, we like it when there are no major problems to deal with!)
Since the last report, NASA has announced the acceptances for Cycle 4 of FUSE operations, the planning information has been rolling in from Guest Investigators, and we have actually begun observing some Cycle 4 targets that have good visibility now. Thanks to all for your timely inputs that have allowed us to get off to a running start for Cycle 4.
A subtle thing is happening on the FUSE project, at least to those of you viewing it from the outside. When FUSE was launched, NASA committed initially to a three year "Prime" science mission. This period officially winds down at the end of March, and a period we call the "Extended Mission" begins April 1. This extended period of operations was recommended to NASA through peer review of all of its active programs, and we are gratified for the continuing support. It is a reflection of the quality of science that the mission is producing, and the fact that astronomers the world over want to use this unique facility. Assuming the satellite continues to function nominally, we expect at least several more years of operations in this extended mission mode, pending further reviews by NASA.
We hope and fully intend for the transition to be nearly transparent to most users, and indeed it should be. However, as we move downstream, it will be important for the community to realize that we are operating with a significantly reduced budget for operations in the Extended Mission phase. Eventually, despite our efforts at automation and streamlining of operations, some impacts may be felt by the community. For now, just realize that for us at least, things are transitioning to a different situation in the near future.
On a related front, previous reports have discussed the need to protect ourselves from potential future failures of gyros onboard the satellite. Over the next month, we expect to complete pre-load testing of revised attitude control software, uplink it to the satellite, and begin verifying its use on the "real bird" (which is spacecraft lingo for the actual satellite instead of a computer simulation of the satellite used in testing). My next report will include a status report of this activity.
Stay tuned! Exciting times ahead.
Reported by: Bill Blair, Chief of Observatory Operations