Mission Status Report #112 Star Date: January 14, 2008
FUSE is in Close-out Phase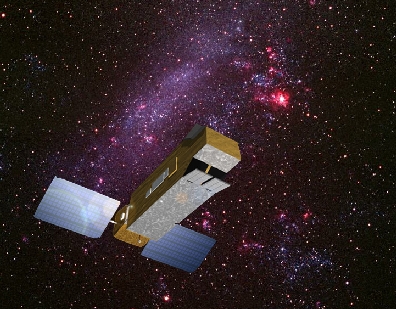 Caption: The FUSE satellite is seen superimposed on an optical image of the nearby galaxy known as the Large Magellanic Cloud, a satellite galaxy of the Milky Way. At a distance of only 170,000 light years, the Large Magellanic Cloud is of intense in this galaxy have been observed with FUSE since 1999, with another 100 stars in the Small Magellanic Cloud as well. (Graphic courtesy NASA and Lauren Fowler, the JHU FUSE project.)
(Click image above to see larger version.)
---
As discussed in my last status report, the FUSE satellite has terminated operations and has entered the close-out phase of the project. The satellite was decommissioned on October 18, 2007, and nothing has been heard from the satellite since that time. (This is as it should be!) FUSE will be up there orbiting quietly for a long time (30 years or more by some estimates) until ultimately it will re-enter the atmosphere and meet its ultimate demise.
FUSE close-out activities are in full swing and proceeding on schedule. The reprocessing of the entire FUSE science data set is more than 60% complete, and should be done by late-April 2008. This is important work, because these data will be the real legacy of the mission. Final reports of various kinds are being assembled for delivery to NASA, and documentation and archiving of procedures are in progress. Finally, later this winter, the satellite control center needs to be completely dismantled, while adhering to the safety and security standards of NASA and the government. It takes a lot of work to close out a satellite project, not all of it "fun."
In the mean time, science results continue to come out even though new observations are no longer being obtained. I have just returned from the January American Astronomical Society meeting in Austin, Texas, and there were numerous FUSE-related presentations at this important meeting. There is a huge amount of FUSE data still to be mined, and we expect new publications to be coming out for at least several more years.
As a matter of fact, there is so much FUSE data, that sometimes it is difficult to find the data sets of most importance to a particular research project! My colleagues and I have just completed a project for the subset of FUSE data in the Magellanic Clouds that is intended to address this problem. Almost 300 stars were observed in the Large and Small Magellanic Clouds, two satellite galaxies of the Milky Way. We have reprocessed all of these data and made them available via a "quick look" capability, hosted through the MAST Archive at the Space Telescope Science Institute. (This is the same place that archives all of the FUSE science data from the mission.) Using this interface, scientists can preview the data and decide which observations include the features of interest to them. Then they can mark the data sets and download copies of the data for their own use. The FUSE Magellanic Clouds Legacy Project Web Site is available here:
http://archive.stsci.edu/prepds/fuse_mc/
In the future, we hope to provide similar helpful interfaces that will permit easy use of FUSE data for a long time to come.
Reported by: Bill Blair, FUSE Chief of Observatory Operations


Last Update: January 14, 2008