JWST Planned Observations Available in MAST Portal
GTO and DD-ERS programs that have been accepted for JWST are now visible in the MAST Portal. This includes instrument and filter information, as well as initial footprint plotting.
The Mikulski Archive for Space Telescopes (MAST) has added a new feature to the Data Discovery Portal, which allows users to search for planned JWST observations, including those requested in Guaranteed Time Observation (GTO) programs and Director's Discretionary Early Release Science (DD-ERS) programs. As with other Portal queries, users are able to cross-match these results with other STScI missions to explore what data are already available for the targets and fields in question.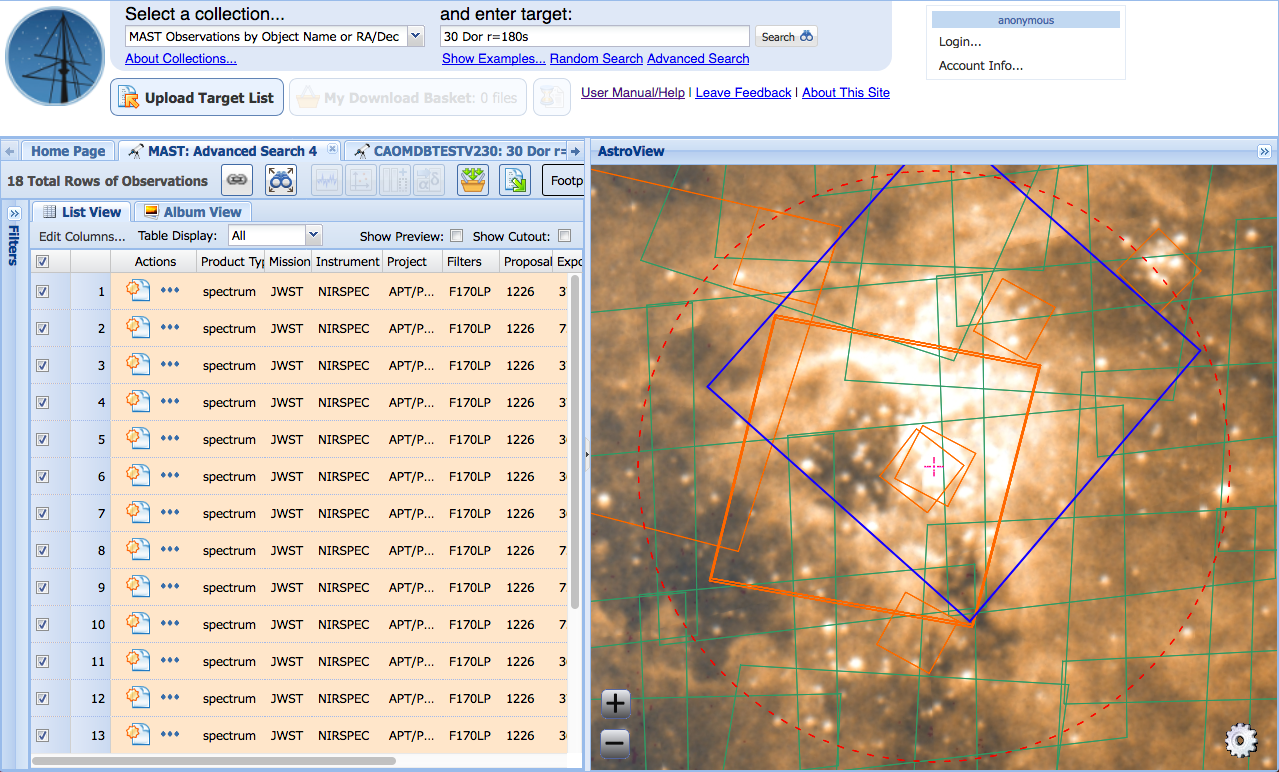 The MAST Discovery Portal can help with JWST duplication checking. Observations that duplicate planned GTO or ERS observations must be justified scientifically. To avoid unintentional duplications, JWST investigators will be required to check their proposed observations against those already approved. The Portal offers a convenient way to identify potential duplications of targets before submitting a JWST proposal, but it does not offer a complete specification of planned observations. Any potentially duplicate targets should therefore still be inspected in detail by downloading the approved APT file for the relevant programs using the program information tool. The final responsibility for duplication checking rests with each proposer.
Planned observations are designated in the MAST Discovery Portal with a calibration level of -1 (currently exclusive to JWST programs). Users may combine a filter on this parameter with any other available constraints, such as position or instrument, in an advanced search. The 'Proposal ID' field in the search results table also provides an active link to the program information page, so users may access APT files and additional information on any programs that turn up in their queries.

MAST Discovery Portal access to JWST planned observations also means that these programs are visible through the MAST API as well. Some examples of querying JWST planned observations using Python are available on GitHub (in Jupyter Notebooks), and additional API examples and tutorials are available on the MAST API documentation pages.
Additional information on duplication checking and the duplication policy for JWST may be found on JDox. Further questions or comments on finding planned JWST observations in the MAST Portal may be directed to archive@stsci.edu or to the new Archive Helpdesk.