Enabling Archival Searches for Scanned HST Data
The primary MAST search page now includes the option search for scanned HST data.
The primary MAST HST search page (http://archive.stsci.edu/hst/search.php) now includes the means for finding, or excluding, scan data taken with any HST instrument. The update also includes "Scan Type" as a default output column on the HST Search Results page.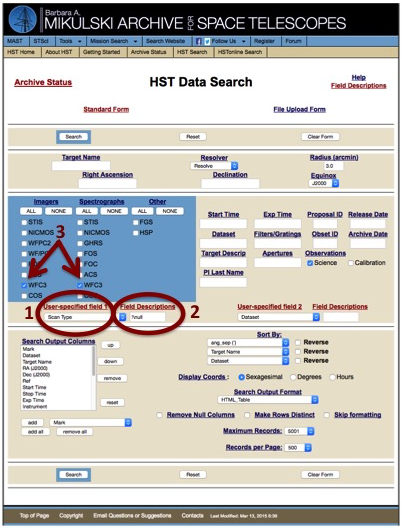 To enable searches for scan data (see Figure 1):
Select "Scan Type" from either the "User-specified field 1" or the "User-specified field 2" pull-down menu.
Set "Field Description" to "!\null" in order to locate only scanned data.
Adjust any other desired qualifiers. In the example shown, we restrict the search to WFC3 data only. Then select "Search".
Figure 2 illustrates the output from a sample search for any scanned WFC3 data. The output has been sorted in time-order, showing the oldest images at the top, by clicking on the "Start Time" column heading. Note the new "Scan Type" column; all WFC3 and other current instrument scans will be of type "C" (continuous) only. Earlier instruments such as FOC, FOS, WFPC2, etc. took both "C" and "D" (dwell) type scans; the D scan is no longer available as an observing option.
Normal staring mode images will have a blank "Scan Type". To exclude scans from the MAST search and locate only staring mode observations, set the "Field Description" to "\null".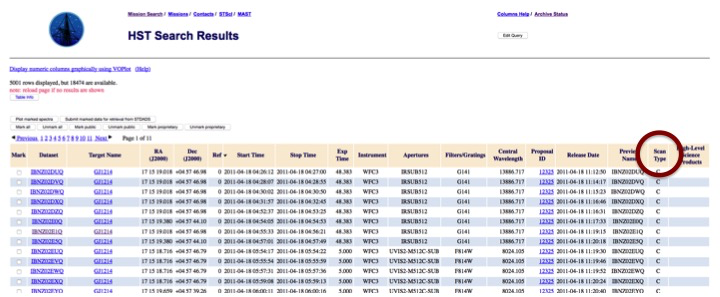 Any questions regarding accessing scanned HST data from the MAST archive can be sent to archive@stsci.edu.