New Search and Visualization Features added to the MAST Discovery Portal
A number of new features have been added to the MAST Discovery portal, including the ability to quickly share searches and to display search results as an album of images.
The MAST Data Discovery Portal (http://mast.stsci.edu) has been updated with many new features, datasets, and infrastructure improvements to expand on its role as the multi-mission interface for all MAST resources.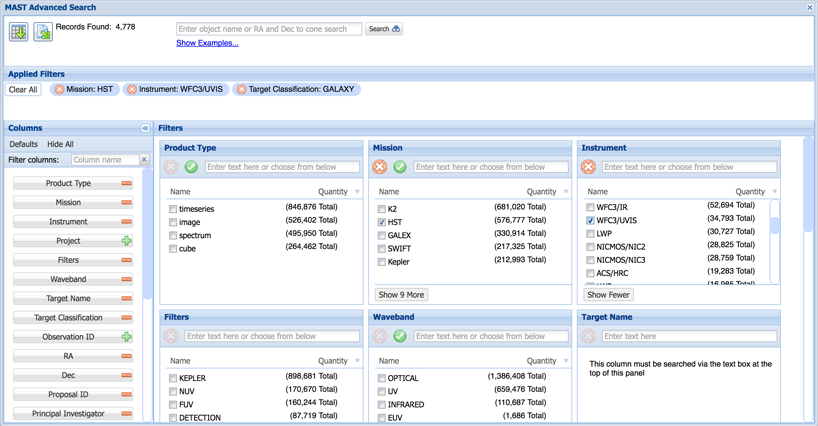 The new features include an Advanced Search form (Figure 1) that enables graphical filtering of the entire MAST collection of observations across all missions.  Users can now quickly filter over two million observations to converge on a scientifically specific dataset for further exploration inside the Portal. A new Album View (Figure 2), alongside the existing Grid View, provides improved dataset visualization within the portal.  A new Save My Search link creator (Figure 2) allows users to save a search query as a URL and then share it with colleagues to retrieve the same dataset from MAST.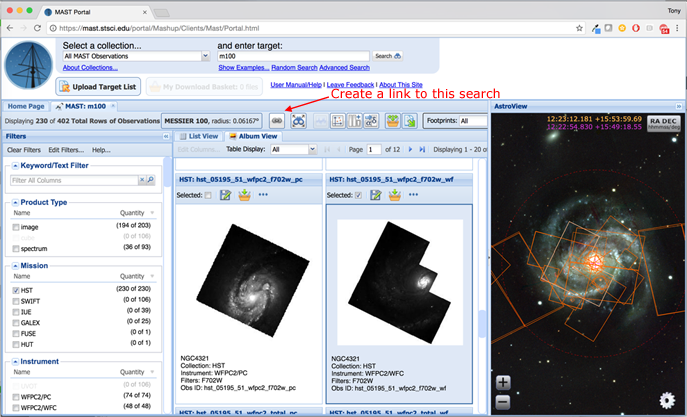 New datasets have also been added to the Portal, including the Hubble Source Catalog (HSC) Version 2.  The HSC interface provides a view of the HSC source detections along with a direct download of the corresponding FITS image.  The GAIA DR1 catalog has also been integrated into the Portal positional and crossmatch search capabilities.  Also added to the Portal is the PanSTARRS All Sky Visualization.  Users can now select this background inside the AstroView all sky viewer with loaded datasets rendered in the foreground.
Check out these new features along with the all the existing capabilities at http://mast.stsci.edu. Please email us with questions at archive@stsci.edu.