The Frontier Fields High-Level Science Products at MAST
HST data from the ultra-deep imaging of lensing galaxy clusters are available in the MAST archive.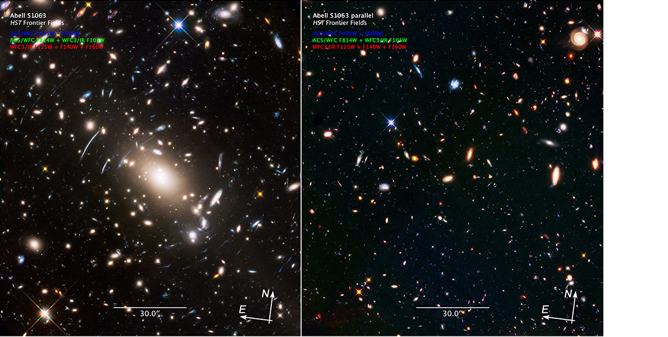 The Frontier Fields program is a large Director's Discretionary program combining the power of Hubble, Spitzer, Chandra and other facilities to carry out ultra-deep observations of six lensing clusters and parallel deep blank fields, aiming to probe the faintest galaxies currently observable in the distant universe. The Hubble observations comprise a total of 840 orbits, consisting 140 orbits obtained with ACS (F435W, F606W, F814W) and WFC3/IR (F105W, F125W, F140W, F160W) on the main cluster and parallel fields for the six clusters Abell 2744, Abell 370, Abell S1063, MACS J0416.1-2403, MACS J0717.5+3745, MACS J1149.5+2223. The survey design paper by Lotz et al. (2016) was recently submitted to The Astrophysical Journal.
The High-Level Science Products for the program are all available through MAST, having been produced by the Frontier Fields team at STScI. These science-ready products include full-depth combined mosaics, astrometrically aligned to each other and to previously existing catalogs, as well as any archival data used for this program. The ACS mosaics incorporate the best available bias and dark current reference files, along with CTE correction and bias destriping. Also included are sets of mosaics that have been processed with the new selfcal approach to better account for the low-level dark current structure. The WFC3/IR mosaics have the best available removal of persistence and bad pixels, and in addition include a set of mosaics that have been corrected for time-variable sky emission that can occur during the orbit and can otherwise impact the up-the-ramp count-rate fitting if not properly corrected. All these high-level science products are delivered to the community through MAST (https://archive.stsci.edu/prepds/frontier/) on a rapid timescale to enable the widest scientific use of these data, as well as ensuring a public legacy dataset of the highest possible quality that is of lasting value to the entire community.