MAST at the June AAS Meeting
Find us at the MAST table in the STScI booth at the AAS 2016 Summer meeting.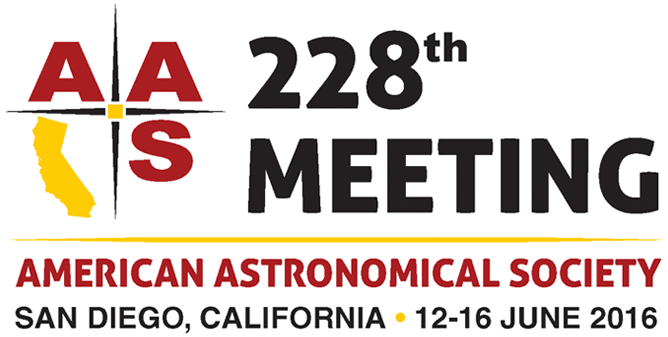 MAST has been participating as a American Astronomical Society exhibitor for several years now. You will find us again at the MAST table in the STScI booth at the upcoming AAS 2016 Summer meeting in San Diego, CA from June 12-16. Our main focus of attendance is to educate the astronomical community on the MAST archive, its data holdings, and search interfaces. We accomplish this mostly by giving live demonstrations on how to use our interfaces to search, analyze, and download data. In recent years we have been showcasing our MAST Discovery Portal. We have found it to be helpful to give live demonstrations of the portal, as it is a pretty powerful tool. Our offerings are not solely interface focused. We also have updated materials on new data products and the archive in general.
We have found in the past that we get a good variety of people coming to visit our MAST table. We meet undergraduate students just starting out in astronomy that are interested in all of the modern ways we search data. We also get all levels of educational professionals coming to the booth, where we provide them with educational resources and offer teaching ideas for the classroom. And, of course we meet with seasoned astronomers who have specific questions about their particular research project. Interacting with AAS attendees at the booth has been a great opportunity to get to meet our community, and we hope you will come visit us if you are attending the AAS this summer or at future meetings!