VizieR Catalog Cross-correlation and VOPlot
The new VizieR Catalog Search and Cross-correlation tool allows MAST users to search the entire set of 4,000 VizieR catalogs and cross correlate the results with any MAST mission. This web-based search tool accesses one of the several VizieR catalog servers (e.g. at CfA) as a web service and retrieves the search results in a machine-readable VOTable XML format.

Users can use the VizieR search form (http://archive.stsci.edu/vizier.php) to search for a particular catalog using catalog name, mission name, target name, wavelength range, author name or keywords (as in the VizieR search based at the Centre de Donnees astronomiques de Strasbourg (CDS)). A catalog of interest can be selected from the returned list. Users can then search within the catalog based on internal object parameters, and may cross-correlate the full catalog or the refined list of objects with any selected MAST mission. This provides a way for users to effectively search MAST by object class, where the object class is specified as a parameter in an object catalog (e.g., spectral type in the Hipparcos catalog). In the cross correlation mode, the search tool retrieves ra and dec values for each found VizieR catalog entry and performs a cone search using a specified search radius. Because this process is repeated for each VizieR catalog entry and each selected MAST mission, execution times can become rather long for large requests.

Users may also upload their own object catalog and cross-correlate it with MAST holdings (http://archive.stsci.edu/xcorr.php?form=fuf). Another recent improvement is that the WFPC2 Associations (see http://archive.stsci.edu/hst/wfpc2/) can now be accessed by the cross correlation search. Output from the cross-correlation search may now be requested in several different formats (including VOTable).

Another new feature is the ability to plot search results from any MAST mission or the VizieR catalog search with a new JAVA-based graphical display tool called VOPLot (http://vo.iucaa.ernet.in/~voi/voplot.htm). This new tool allows users to plot the search results from any numerical field returned in a search as a histogram, or as a scatter plot against any other field, as well as to display statistics on the results. VOPlot was developed as a part of the Virtual Observatory - India initiative by Persistent Systems (PSPL) and the Inter-University Centre for Astronomy and Astrophysics (IUCAA), in collaboration with CDS, and the European AVO project.

As a simple example, after using the VizieR search and selecting the Abell Catalog of Rich Clusters of Galaxies, voplot was used to plot magnitude vs redshift.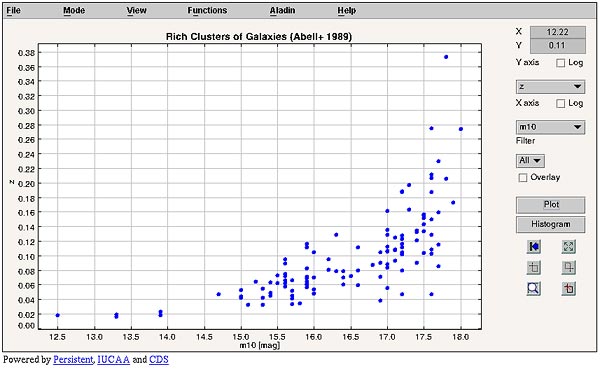 New additions to the Pointings Search Tool
The MAST `pointings' search (http://archive.stsci.edu/cgi-bin/point) allows users to determine which regions of the sky HST has observed, and to do sophisticated searches based on the number of observations, number of filters, time between observations, etc., for a given region. In addition to WFPC2, STIS (images), FOC, and NICMOS, the Advanced Camera for Surveys (ACS) and WFPC2 associations have now been added to the pointings database. Please see the webpage (http://archive.stsci.edu/cgi-bin/point) for details on how the pointings are defined for each different instrument.
---
GALEX Early Release Observations now available at MAST
By Myron Smith